Networking is crucial if you want to advance in your career. Dream jobs don't automatically appear from nowhere, you need to invest in continuing to grow and maintain your network on LinkedIn to get there.
That's where creating a LinkedIn profile and sharing it with your contacts comes into play. Once you have created a complete LinkedIn profile including a summary of your career, your education, achievements, and skills, it's time to share your profile with your network of contacts, co-workers, decision makers, or recruiters.
How to Share Your LinkedIn Profile (Desktop)
Click and paste https://www.linkedin.com into your browser, then type in your user name and password.
Click on the "Me" icon that appears on the top of your LinkedIn profile menu bar.

Click on the option View Profile. This takes you directly to your profile page.
Click on "More" which is the third option just below your profile photo.

3.That will bring up a dropdown menu. Click on "Share Profile". This activates a menu box.

4.Type in the name of the connections that you want to share your profile with, then hit "send".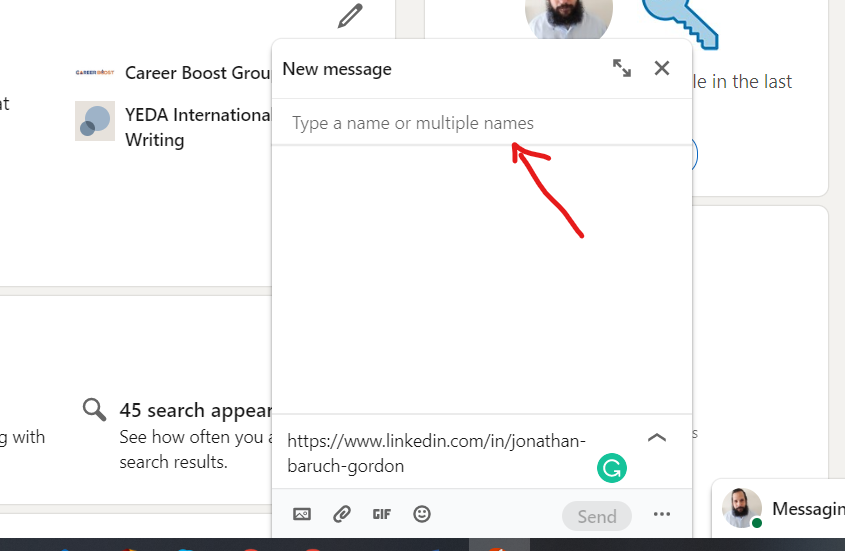 If you want to share a contacts profile page, you can do that in the same way. Simply go to their profile page and follow the above steps.
How to Share Your Profile on The LinkedIn Mobile App (Android/iOS)
Tap on the LinkedIn app on your device's home screen.
From your LinkedIn home page, go to your profile by tapping on your profile on the top left of the screen, then tapping My Profile.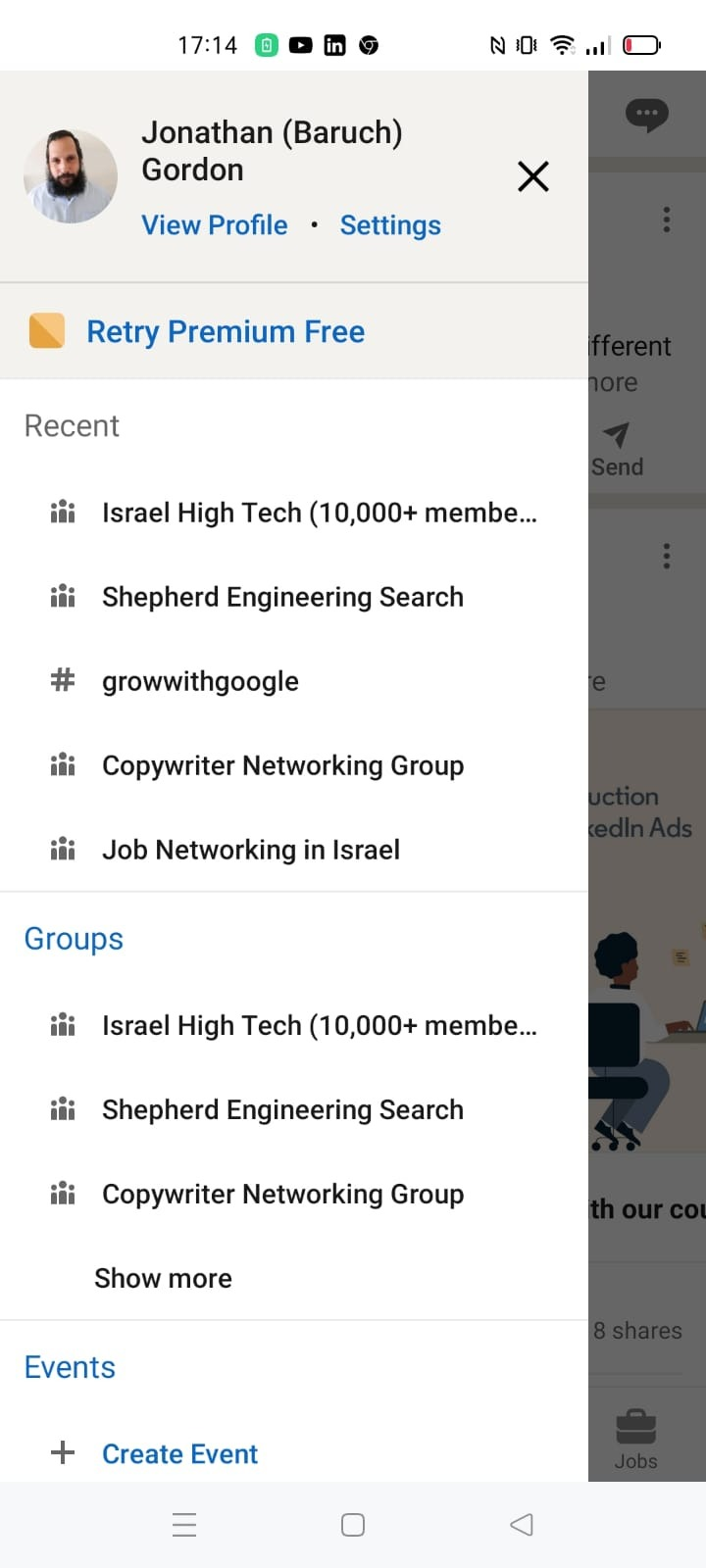 You can share your own profile or navigate to one of your contacts profile pages that you wish to share.
On a mobile device, touch the three dots directly below your profile image to send your LinkedIn profile as a message to a contact via social media platforms like WhatsApp, Facebook Messenger, and others, as well as a Private Message or Post on LinkedIn.
Important Note
If you have an iOS, tap on "Share as a Private Message". If you have an Android, It will appear as "Share Profile".
Type in the name of the contact whose profile you want to share, then tap send.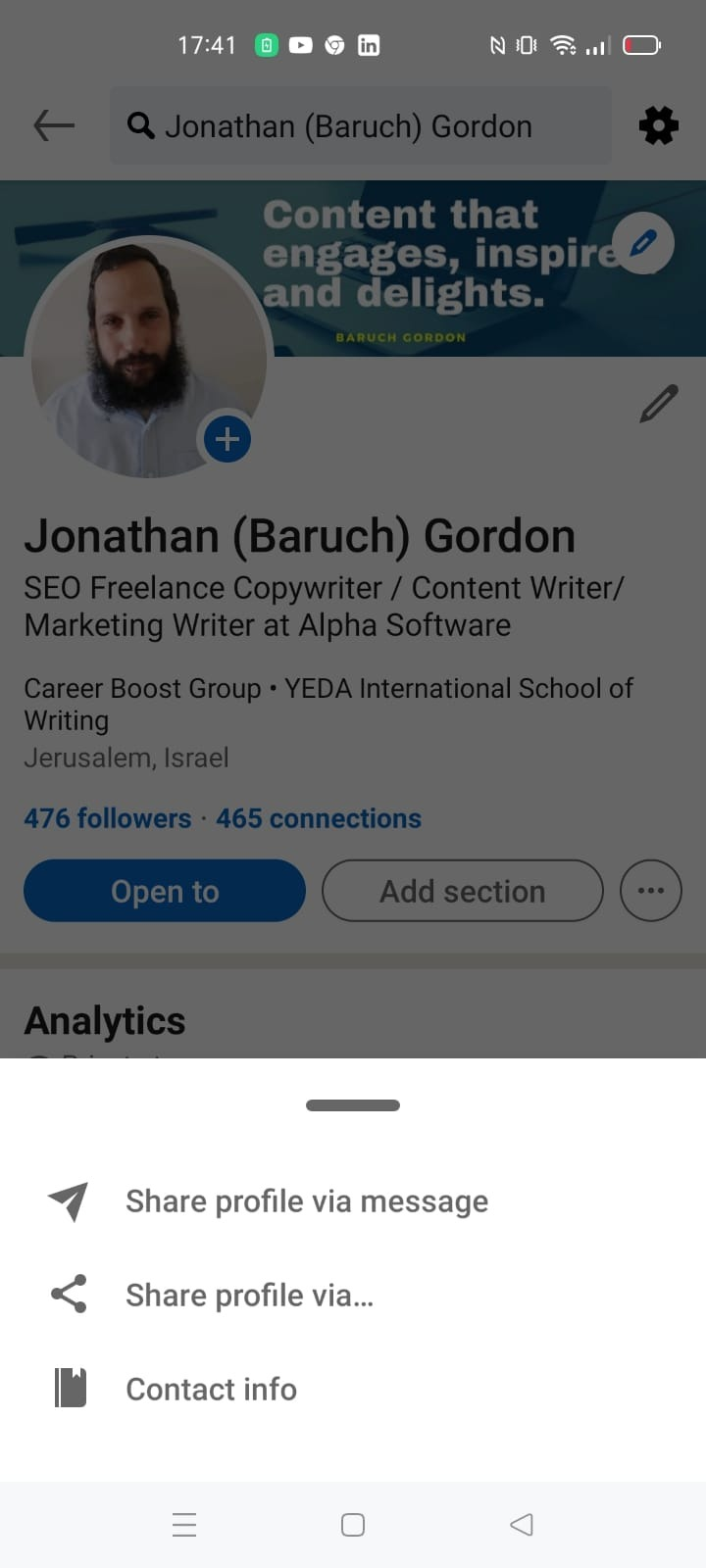 Sharing Your LinkedIn Profile FAQs
What does the "Share Your Profile" feature mean?
LinkedIn allows you to share your profile with other LinkedIn members. You can either share your profile with connections or other LinkedIn users.
Why should you share your LinkedIn Profile?
One of the reasons for sharing your profile is to expand your network. You can also share one of your connection's profiles if they want to be introduced to a member of your network.
Can you tell who viewed your profile?
You can see who viewed your profile if you are a member of one of LinkedIn premium services.
What is better posting or sharing on LinkedIn?
The more people who comment, like, and engage with your LinkedIn posts, the more your visibility increases. Sharing content on LinkedIn tends to not get many views.