LinkedIn is a visual medium, and therefore photos such as a great background image can add tremendous value to your LinkedIn profile. The following article will inform you of all the things you need to know in having the most suitable background photo to enhance your LinkedIn profile.
What should I put as my LinkedIn background?
The crucial question is to understand what LinkedIn background to select on your LinkedIn profile. This will depend on what you do for a living. Below you will understand what to use if you own or manage a business or are trying to promote your firm's brand or for someone who works in a specific profession.
If you own or manage a business or are trying to promote your firm's brand
Those who own or manage a business or trying to promote their company should use a branded background image. Below you will find my company logo, Career Boost, as an example. If you work for a firm, get permission, and ask if they have a branded background image you can use.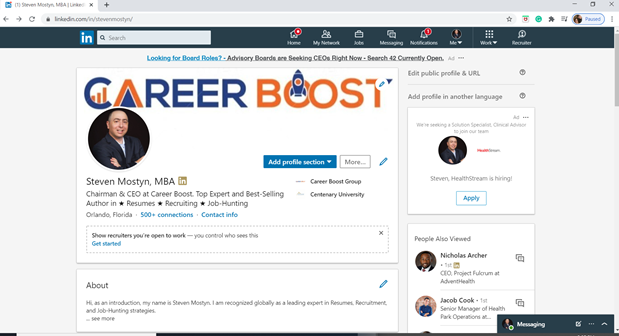 Professional centric images
For people who work in a specific profession or industry, I recommend finding an image representing your profession. You can easily find a photo for free by going to Unsplash and searching for a free image of your profession to use. Go to https://unsplash.com/ to find images and search for an appropriate one. At the end of this article, I will give a bunch of LinkedIn background photos ideas for different professions.
How do I change the background on my LinkedIn profile?
Below I will take you to step by step to change your background on your LinkedIn profile.
Step 1. Click the top right camera on your generic background image
On your LinkedIn profile, look at the generic blue LinkedIn background image that LinkedIn provides, and click in the right corner, the image of the camera.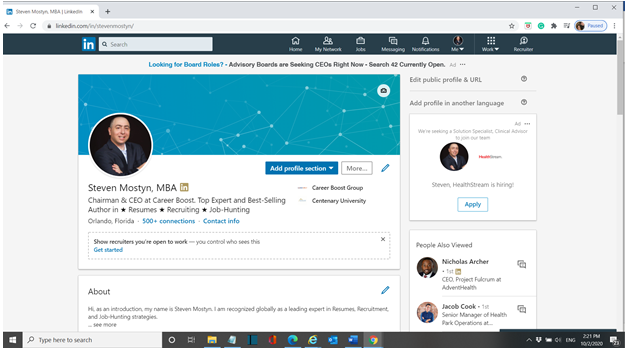 Step 2. Upload the photo
Upload the photo you want to use from your documents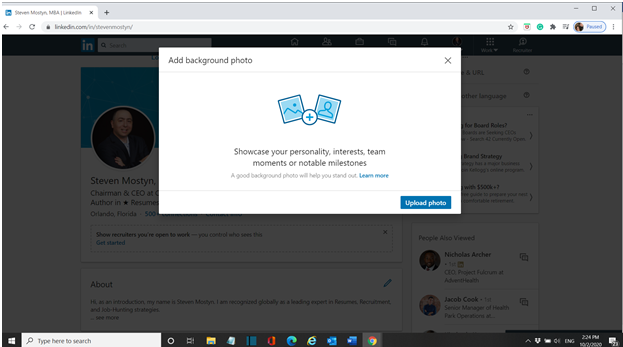 Step 3: Select the image and resolution
Select the image you want and select the resolution you want to use, including crop, filter, and adjust of the image. Then hit apply to add the profile.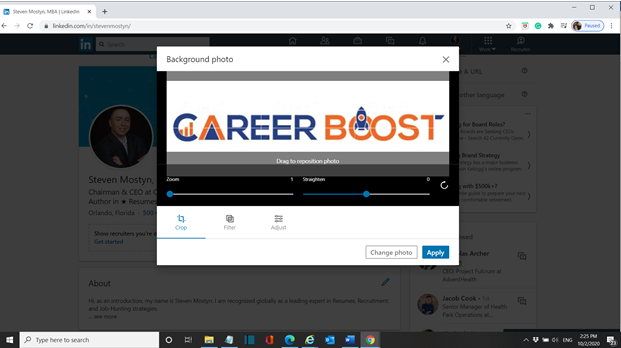 What is the size of a LinkedIn background?
The size of the image you should use for your LinkedIn profile is a minimum of 1192 (w) x 220 (h) pixels and a maximum of 1128 (w) x 191 (h) pixels.
Also, keep in mind how your personal photo of yourself blends into the picture. This might include covering up words or part of the picture, so choose a photo that goes well with your LinkedIn photo.
LinkedIn background ideas
As discussed above, I will give many examples you might use from different professions for LinkedIn background ideas.
Real Estate background ideas
Use a picture of the building you work for or use pictures of building in the part of real estate you work in. If you sell real estate, use pictures of the type of houses you sell.
Healthcare background ideas
Find pictures of medical and healthcare images representing what you do, such as images of surgery, medical instruments, and tools.
Technology background ideas
Use images such as computers, circuits, and other things that depict technology.
Marketing background ideas
Look for photos that represent the part of marketing you do, such as SEO, content, product, communication, to name a few.
Entrepreneur background ideas
Think of things that represent wealth, such as expensive houses, cars, watches, and others.
Accounting background ideas
Search for photos that represent saving money like a wallet full of money or cash flow. Or a photo of a calculator or a chart depicting a positive cash flow.
Sales background ideas
Think of an image that builds sincere trust like a handshake or other positive partnership.
Banking background ideas
Depending on what you do in banking, you might search for pictures like stock market trading, wealth photos, or merely a picture of bank buildings.