Read on to discover how to embed a video onto your LinkedIn profile to increase your visibility and engagement on the platform. Embedding a video on LinkedIn is relatively easy, just follow these steps we've listed in our blog post.
It's hard to imagine everyday life without videos, whether it's social media, advertising, or the corporate world. A LinkedIn profile is an important tool for building a personal brand. It's also critical that your LinkedIn profile is engaging enough that recruiters, clients, competitors, and your colleagues want to learn more about you.
Why Use Video on LinkedIn?
Video is a great marketing tool that is now available on LinkedIn. There are several ways you can maximize the use of video.
Various Options with Video: You can post a short elevator pitch that briefly describes your skills, background, and professional goals. Ask a client to post a short testimonial video, or create your own vlog that gives people insight into who you are and what you do.
Increased Engagement: According to Cisco, 76% of executives watch business videos. So it's no wonder you're wondering how to add videos to your LinkedIn profile.
Must Know Information For LinkedIn Profile Videos
Video for Mobile/ Desktop: You can create a LinkedIn native video from your mobile or from your desktop. You will need to download the mobile LinkedIn app, then record in-app. There is also an option to add text and stickers. Desktop requires a pre-recorded video.
Your Profile Video: LinkedIn notes that your profile video is displayed as a muted three second preview before returning to your profile photo.
How LinkedIn Members View Your Profile Video: LinkedIn members need to tap on your profile to view your video. Once you have produced a video for your profile, a blue circle will surround your profile photo.
Important!
● You can only record or upload a profile video through the LinkedIn mobile app.
● The video must be at least 3 seconds long and no longer than 30 seconds.
3# steps to Get Started with Posting a Video on your LinkedIn Profile
For Desktop (Sharing a Video as a LinkedIn Post)
1) From your LinkedIn home page, click on the button "Start a post".
2) Click the video icon below.
3) Upload the video that you would like to share from your desktop (See the screen print below this one).
Uploading Your LinkedIn Profile Video from a Mobile Device
1. Look for the "create post" button (Android) or the share box (iOS) at the top of the feed. (The button in blue below).
2. Click on the video icon.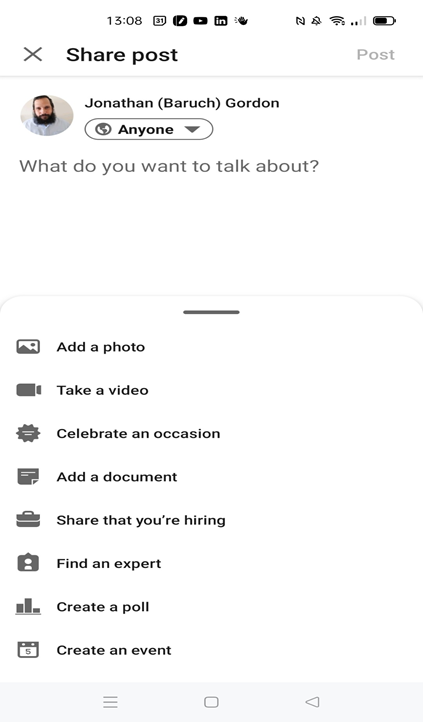 1. Record a video in the LinkedIn app or upload a video that you have pre-recorded.
2. Click on the filters or text button, then add/or text.
Features of LinkedIn Video
● After you publish your video, you can get audience insights. This includes how many views (impressions), likes, and comments your video post received.
● You can also see the companies, titles, and locations of your video's viewers.
In our next blog post, we will discuss how to create a profile video for your LinkedIn profile.
To find out more how you can get a refreshed, optimized LinkedIn Profile or Business Profile for your company Click Here.